History
91 years of history!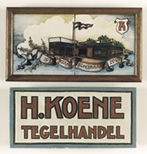 It all began in 1922, with Hendricus Koene's tile shop in Voorburg. Tiles arrived by train, and a model-T Ford provided transport to clients. Under the leadership of the founder's son, the company started selling directly to consumers. He also began selling kitchens, bathrooms and fittings. The ever-growing clientele started asking for construction and installation.
The company was renamed Het Koenehuis when they relocated to the Brinckhorstlaan in the Hague. The current location on the Maanweg was moved into after a fire.
Still a family business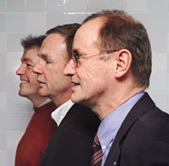 Het Koenehuis has ignored trends like franchising and consolidation: it remains an independent family business. Hendricus Cornelis Koene took the helm of the company in 1947.
By expanding the company's activities, he laid the groundwork for its continued growth. Early on, he viewed the company as an expert partner for the consumer. Het Koenehuis was a pioneer that way. The company is now run by the third Koene generation: Erik, Hans and Ton. They place emphasis on kitchen and bathroom architecture and international tile collections.