Quality & Warrantee
Full 5 Year Warrantee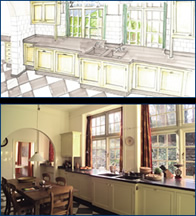 Long before others in the Netherlands gave a warrantee on the delivery and installation of bathrooms and kitchens, Het Koenehuis developed its own all-inclusive guarantee. A kitchen is composed of appliances and materials from a number of different sources, each with its own warrantee terms and conditions.
Het Koenehuis takes over all of these warrantees on delivery, and includes them under the umbrella of their own warrantee certificate, with a corresponding maintenance booklet.

The warrantee is valid for five years, and covers all delivered appliances, materials, fitting and installation. The contract is delivered to your home. There's no need to guarantee risk, because Het Koenehuis will always fully guarantee every product they deliver.
Het Koenehuis is awarded the 'Comfortable Living Consumer Label' by the foundation for promoting quality in the Kitchens sector (stichting Kwaliteitsbevordering Keukenbranche).
Click here for more information